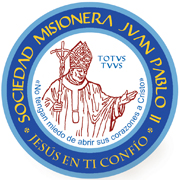 SOCIEDAD MISIONERA JUAN PABLO II
«No tengan miedo de abrir sus corazones a Cristo»
March 9, 2009

Mr. Tony Elejalde III
Account Executive
Local Television & Interactive Media
3350 SW 148th Avenue, Suite 401
Miramar, Florida 33027
Dear Mr. Elejalde,
The Board of Trustees of the Missionary Society John Paul II would like to formally invite you to serve as an active member of our Development Committee for a two-year term. We believe that your experience, enthusiasm, and knowledge of the marketing industry together with your proven extraordinary track record working on behalf of other charitable and community-oriented organizations make you an ideal candidate for the position.
The Development Committee is one of two standing committees of our organization and its main responsibility is to assist the Board of Trustees in developing relationships between the Missionary Society and various funding sources, and to coordinate fundraising activities intended to benefit the Missionary Society. It also assists the Board of Trustees in the solicitation of gifts, grants, contributions and donations to the Missionary Society; and it advises the Board of Trustees on the priority, timing, direction, strategies, and management of all fund raising efforts.
At the present time, one of our main initiatives is Misión Esperaza, a three-year project encompassing several workshops, the production of two music CDs and the Florida Concert Series. Our next fundraising activity, which is part of Misión Esperanza, is a concert that will be held on Saturday, May 23, 2009 at the Barbara Goleman High School Auditorium. We believe that your expertise will be very valuable for Misión Esperanza as well as for future projects.
We are looking forward to a good working relationship with you as we strive to bring hope to our brothers and sisters of the Caribbean by proclaiming the good news of the gospel.
Sincerely yours in Christ,
Adriano Garcia, Jr.
Missionary of John Paul II
President